~ About Ka Lima Hana Kukui ~
"Healing comes from within by means of love." - Serge Kahili King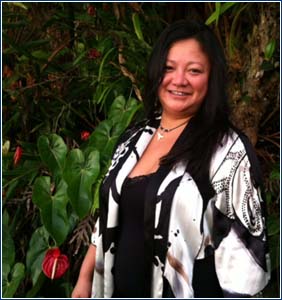 Teresa Navarro, Owner
Aloha and Mahalo for visiting our website. Mahalo Ke Akua for all the Aloha, Mana'o and guidance you portray to my hands through my heart. I cannot help others without you.
My name is Teresa Navarro. Born on the Island of Moloka'i. Raised both on the island of Oahu and the Big Island. Descendent of Kamehameha the Great's spiritual advisor, "Hewahewa". Lomi Lomi as part of Hawaiian life is instilled from a very early age among many keikis growing up in Hawaii. For me it was a normal thing watching my Kupuna & Tutu's performing Lomi Lomi massage using Kukui nut oil.
My lessons didn't happen till I was a teen. My Kumu was my Uncle Lohekamakaula Ka'aloa. He was a well known martial arts instructor and practitioner of herbal medicine as well as Ho'olahou, the rejuvenization of the body, mind and soul. He taught me a lot of ancient Hawaiian methods as well as techniques with Asian influences.
I have many years of hands-on experience and am nationally certified in the State of Nevada & Licensed Practitioner in the State of Hawaii. After 11 years of being away from home, I've come full circle in my life and career and would love to now share the aloha with you.
UA OLA LOKO I KE ALOHA
---
NOW Accepting Auto Accident, Workers Comp, and Personal Injury
Gift Certificates Available
Member of:
Ka Lima Hana Kukui Massage, 75-5759 Kuakini Hwy #103 F, Kailua-Kona, HI 96740
In the Pa'a Pono Building
(The building with the big clock)
Phone: 808-345-7542 | Email: teresa@lomilomihawaii.net


Join us on Face Book